3. Any Cons (service fees, shipping, etc.)?
As expected with ticket resale sites, not all StubHub reviews are positive.
Common complaints from StubHub reviews:
     > Fluctuating ticket prices
     > Service fees (26-32% extra)
     > Shipping fees vary
     > Delivery on tickets varies
First off, the average ticket buyers will pay an extra 26.8% service fee on average for concert tickets as shown below.
Tickets to an NBA are about 32% service fees.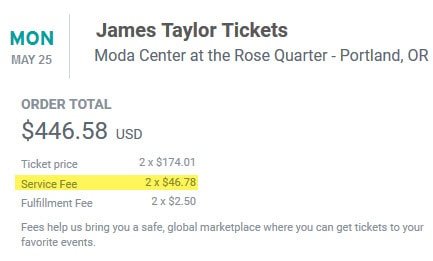 On average we see ticket prices being marked up about 100-150% from the original face value on the ticket stub.

StubHub ticket sellers are charged a 15% fee.

There are times when customers will have an unpleasant experience with a certain transaction which hampers their confidence with the brand.
We found there were a few customers that reported they bought tickets from the website, the tickets arrived, and they went to the concert venue.
Upon arrival, they found out that the show was sold out and their tickets were invalid which led them to the notion that this website is a scam.
But then again, these cases happen rarely and we've seen happen with just about every other ticket exchange.
These complaints can be read with many StubHub reviews the web in 2020.