_______________________________________________
2. What's Good about TicketLiquidator?
The best thing about Ticket Liquidator reviews is their 100% guarantee.
If an order is accepted but not delivered by the seller or shipped too late for the tickets to arrive in time for the event, Ticket Liquidator provides 100% money-back guarantee. If you were denied entry to an event because of invalid tickets provided to you by a seller, Ticket Liquidator would provide you with 100% money back.

If an event is canceled with no rescheduled date, Ticket Liquidator gives customers a 100% money-back guarantee, which excludes shipping.
This worry-free guarantee ensures that customers are completely secure when they buy tickets through TicketLiquidator.com.
TickLiquidator on BBB.org currently has an A+ rating but must mention there are a few complaints that you should be aware of (see below).
_______________________________________________
3. Any Cons (fees, shipping, etc.)?
One thing that's common with ticket resale sites is there are no refunds or exchanges after placing your order on TicketLiquidator.com.

Another thing we found with Ticket Liquidator reviews was there were complaints of high-service fees (39% fee currently added to subtotal of your order). This was recently seen when purchasing 2 tickets to an NBA game in Portland, Oregon.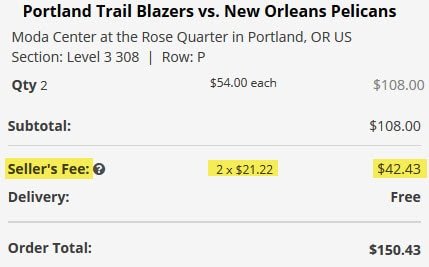 Sellers who are listing tickets through the website are re-pricing them based on their perception of the popularity of a given event.
This means that the prices of event tickets on Ticket Liquidator will be independent of the face value of the tickets and will usually be priced above face value.
The markup on ticket prices covers the expenses incurred by sellers throughout the process of obtaining premium event tickets.
Sellers usually pay face value as well as additional fees. Some dealers buy from other sellers, which means they pay a markup fee as well.