2. What's Good about FromTheBoxOffice?
The best thing about FromTheBoxOffice reviews is that they seem to be a trustworthy and reliable online ticket provider. They take measures to ensure that tickets sold through their website are from genuine, legitimate agents and that each transaction between customers and agents goes smoothly.
FromTheBoxOffice reviews provide useful tips to customers so that they can ensure customer satisfaction.
They are members of STAR (Secure Tickets from Authorised Retailers). STAR members identify the face value of tickets purchased and any additional booking fees, highlight terms and conditions and provide a high standard of professional service.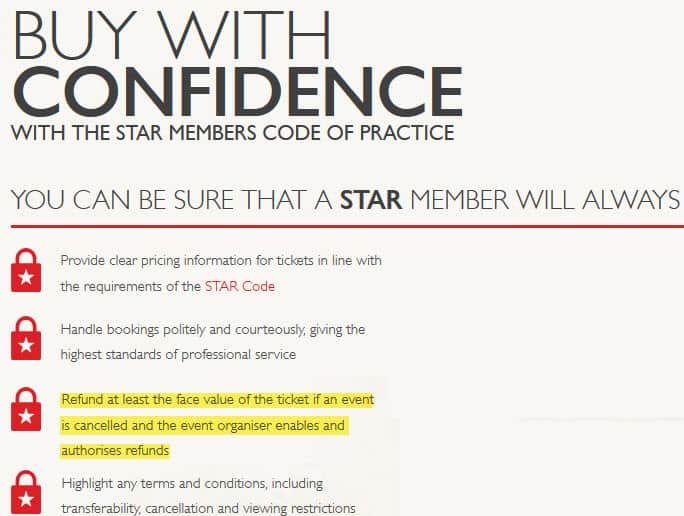 FromTheBoxOffice.com also ensures that all of the information entered into the website by customers is encrypted, which provides safety and security when it comes to personal and credit card details.

3. Any Cons (service fees, shipping, etc.)?
A negative aspect of FromTheBoxOffice reviews is that there is no set policy when it comes to cancellations or refunds. Each venue has its restrictions regarding cancellations and refunds. Some venues have a strict no cancellations or refunds policy, whereas other venues allow changes depending on circumstances or charge a fee for cancellations or refunds.

The policies vary from venue to venue and are listed in the Terms and Conditions on the bottom of the page of the event that you are purchasing tickets for. The fact that information regarding cancellations and refunds is provided before making a purchase is very beneficial.
Another thing noticed, is most ticket sites will have hidden fees or extra service charges, but as shown below for this event FromTheBoxOffice.com there were no fees for the tickets or shipping cost.