TicketsMate Review
5 Things to Know Before Buying
Review Updated 1/2/2022
1. Is TicketsMate Legit?
TicketsMate offers a legit and safe platform for licensed ticket brokers to sell tickets on for sporting events, concerts, and Broadway shows, but there are some negative Ticketsmate reviews to be aware of below (see our top alternative ticket sites below).
Keep in mind, TicketsMate charges a 30% service fee to subtotal that's hidden until the checkout.
Although the tickets are not primarily owned, the company assures all of its clients that the tickets that they sell are authentic and legit.
Security has also been assured, and so far, there have been no reports on TicketsMate that spoke about the customer's information is in jeopardy.


There are a lot of customers who wrote in their TicketsMate reviews that they often mistake TicketsMate with Ticketmaster which is another website selling tickets. Both websites are legit companies although there are a few significant differences between the two. But getting past the confusion in the name, TicketsMate is slowly getting more publicity even if the other company is much more famous.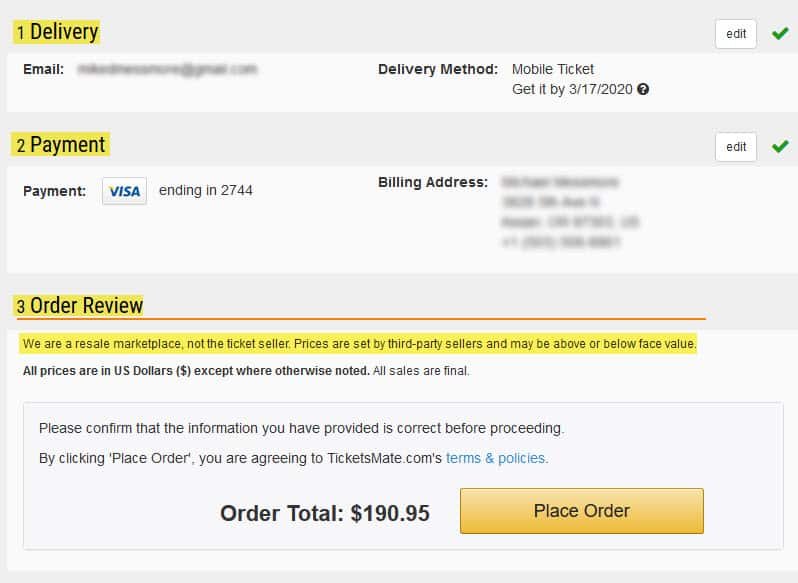 TicketsMate is a secondary ticket broker which means that the tickets that they sell on the website are already added with a markup value, and customers need to pay a certain percentage of service fees too. TicketsMate will tell future customers about what to expect as far as charges go.
_______________________________________________
2. What's Good About TicketsMate?
Plenty of TicketsMate reviews mentioned the following positives:
> good selection of tickets
> floor seats and courtside tickets for certain events
> FedEx shipping with tracking
The tickets are also delivered accurately through FedEx.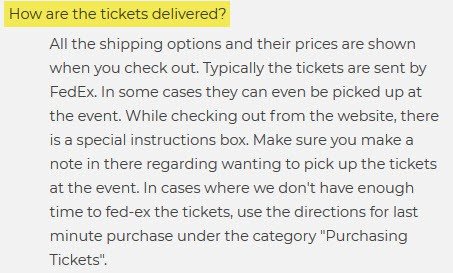 Some TicketsMate reviews also mentioned that for certain events tickets can be picked up right at the event venue.
Also, seats from TicketsMate will be together side-by-side, in less otherwise stated, as shown below.

_______________________________________________
3. Any Cons (service fees, shipping, etc.)?
There were a few complaints that customers had stated in their TicketsMate reviews regarding their purchase.
The common complaints in TicketsMate reviews were:
> higher-priced tickets then face value
> service and delivery fees are hidden until checkout
> ticket delivery delayed, but still arrived before the event
One common complaint is TicketsMate charges a 30% service fee.
Also, on the order below, there was an $8.95 delivery fee for mobile entry tickets.
Most resale ticket sites these days on average charge about 30% service fees, so this is actually normal compared to other sites.
There were also TicketsMate reviews some ticket orders could no longer be canceled past a certain point after purchase.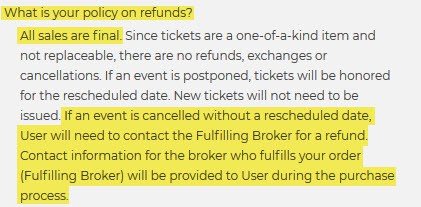 _______________________________________________
4. TicketsMate Review Summary
TicketsMate reviews have helped customers know that this company is after a safe website to get premium event tickets.
The prices are not the cheapest, and there are also complaints about their customer service.
But if you look at the reviews, even the negative ones said that they were able to receive their tickets. You can take a look at the website and check the events for yourself.
You can also call them through their hotline and see how well their representatives entertain your questions at TicketsMate.com.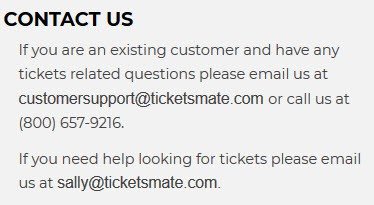 _______________________________________________
5. Any Good Alternative Ticket Sites?
Compare all our top 3 ticket sites below for the best deal.
1. TickPick
> good for sports, concerts, and broadway shows
Why TickPick?
We have tested TickPick.com and TickPick is legit that has positive feedback overall from other TickPick reviews.
> no hidden fees and easy ordering process compared to other sites
> best price guarantee and up-front pricing (no service fees)
> grades every ticket from sellers based on price and seat quality
> options to pay w/ PayPal or zip (4 interest-free payments)
> ticket search w/360-degree seat view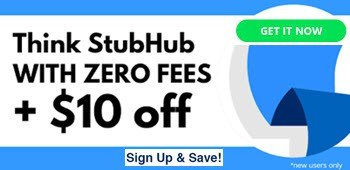 _______________________________________________
2. Ticket Exchange by TicketMaster
Why TicketExchange by TicketMaster?
We have tested Ticket Masters Resale and got overall positive feedback from most Ticket Master reviews. It's the official resale site for the NBA, NHL, NFL, and WNBA
> safe and secure ordering process
> 100% authentic tickets that are verified for authenticity by TicketMaster
> tickets delivered within minutes w/ e-ticket email deliveries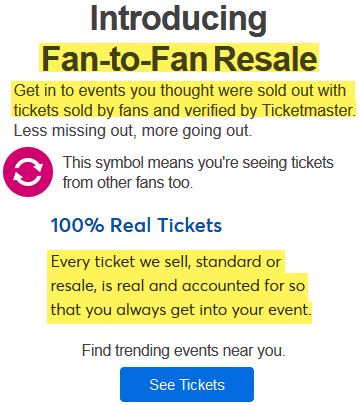 _______________________________________________
3. Vivid Seats
> good for sports, concerts, and broadway tickets
Why VividSeats?
We have tested VividSeats.com and was good for us, although there are mixed

VividSeats reviews

., but recently rebranded with better support.
> 100% guarantee with safe ordering
> largest independent secondary ticket marketplace to live events
> the official ticket provider of ESPN
> good prices compared to most ticket sites
> voted best in-house customer support team
> extra event protection add-on at checkout (100% reimbursed if an accident)

_______________________________________________
We did compare TicketsMate vs StubHub because some might ask, what's the real difference, and is StubHub a legit site? StubHub seems to have a larger selection of tickets to choose from to events in over 50 countries, while TicketsMate has events in just the US. Also, TicketsMate service fee is 30% and StubHub's service fee is similar at about 30% on average it seems, but can vary.
_______________________________________________
Click here to share your TicketsMate review below.
_______________________________
Keywords: ticketsmate.com reviews, is ticketsmate legit, is tickets mate safe, is tickets mate reliable, tickets mate reviews 2022